Elegance HCG Spray
Elegance HCG Spray is a unique 23-day weight loss cure whereby you lose weight fast and simple, detoxify your body and prevent the yo-yo effect: simple to use and easy to keep up. Elegance HCG Spray is the renewed, pharmaceutically produced HCG Weight loss cure, based on modern techniques, in combination with a diet that has proven itself for years. This will make sure that you too will now finally reach and keep your target weight!
The unique composition of the Elegance HCG Spray will make sure your appetite decreases and body fat is burnt faster. In combination with the unique HCG diet, you will lose weight fast, even in those difficult spots: hips, bottom, thighs and belly. The HCG cure is a unique weight loss cure that has been used worldwide for over 50 years and has provided many satisfied users.
With the Elegance HCG Spray Weight loss cure you can see results from the beginning. Because you only lose fats and no muscles, the results are stunning and the inches will disappear faster than with other diets. Besides, you do not need to work out more actively: the diet alone is enough!*
To remain motivated it is imported to quickly see results. Therefore, our cure is completely focused on that: fast, but responsible weight loss. Without feelings of weakness, energy loss and lethargy: thanks to the composition of Elegance HCG Spray you will keep enough energy and feel good, healthy and fit! Elegance HCG Spray is a pharmaceutically produced weight loss product that guarantees the highest quality. Completely produced within the EU.
How does the Elegance HCG Spray cure work?
During 23 days you use the Elegance HCG Spray solution daily and follow the provided diet. The diet is free of fat and almost completely free of carbohydrates and would hardly be maintainable without the Elegance HCG Spray solution. However, the Elegance HCG Spray solution decreases the feeling of hunger and makes sure you feel well and have enough energy.
The Elegance HCG Spray solution makes sure the so-called structural fat; the fat that is inside the muscles and protects your organs doesn't disappear. At the same time this makes sure that the mobile fat (on the hips, belly, bottom etc.) disappears faster.
What does HCG actually do?
By adding very small amounts of HCG the fat burning is activated and the feeling of hunger is suppressed by the influencing of the hypothalamus. This way, one can follow a strict diet without problems; daily activities can be maintained without feeling of weakness or fatigue. On the contrary: HCG provides extra energy whereby one feels better and fitter. In combination with the HCG diet this provides an immediate weight loss, without feeling hungry.
Elegance HCG Spray is free of hormones
Elegance HCG Spray uses the same principle as the classic HCG cures, however, without the actual hormone. By using advanced, computer-steered equipment, the characteristics of HCG are copied (these are the frequencies of HCG). Because of this, the working action is the same, but without hormones! Besides this, L-Carnitine, Chrome and Selenium in the Elegance HCG Spray solution create an even more powerful weight loss product.
For whom is the Elegance HCG Spray cure meant?
The Elegance HCG Spray diet is meant for everyone who has trouble losing weight on their own or is bothered by the yo-yo effect. Elegance HCG Spray cure has proven to be a successful resource for both. Elegance HCG Spray can be used by anyone with a BMI-value that is not lower than 20. This can be calculated by dividing your weight (in kg) through your length (in meters) in square: weight / length2.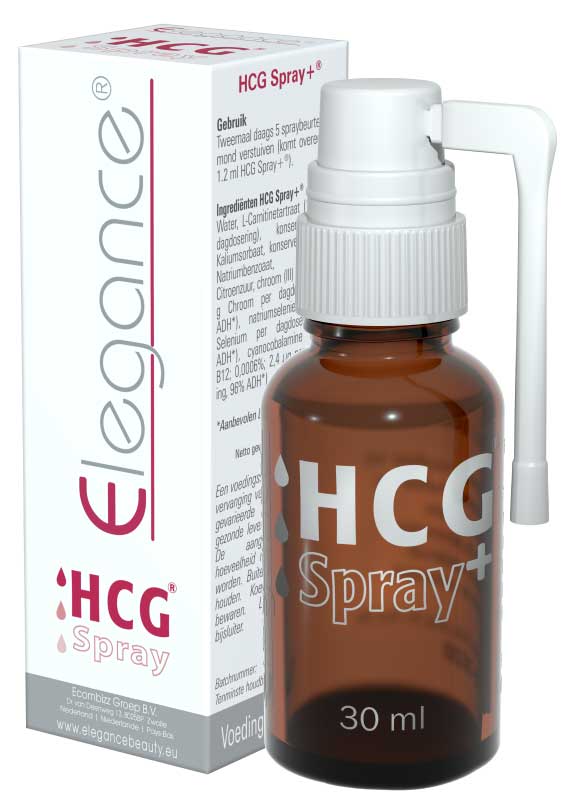 30ml Elegance HCG Spray solution with aerosol
Extensive package leaflet with diet advice
Nett weight: 30 gramm
Water,
L-Carnitine tartrate (10 mg per daily dose),
preservative Potassium sorbate,
preservative Sodium benzoate,
acid Citric acid,
chromium (III) chloride (20 μg Chromium per daily dose, 50% RDI*),
sodium selenite (11,2 μg Selenium per daily dose,  20% RDI*)
cyanocobalamin(Vitamin B12; 0,0006%; 2,4 μg per daily dose, 96% RDI*)
* Recommended Daily Intake
A dietary supplement cannot be used to replace well-balanced and varied food and a healthy life style. The recommended daily dosage should not be exceeded. Keep out of reach for children. Store in a cool, dry, dark place. Read the instructions before use.